Moviegoers Head to Theaters for Disney's Latest Live-Action Film
This killer marketing campaign paired up with an infamous villain's tale to prove that even in a post-quarantine world, movie theaters are not dead.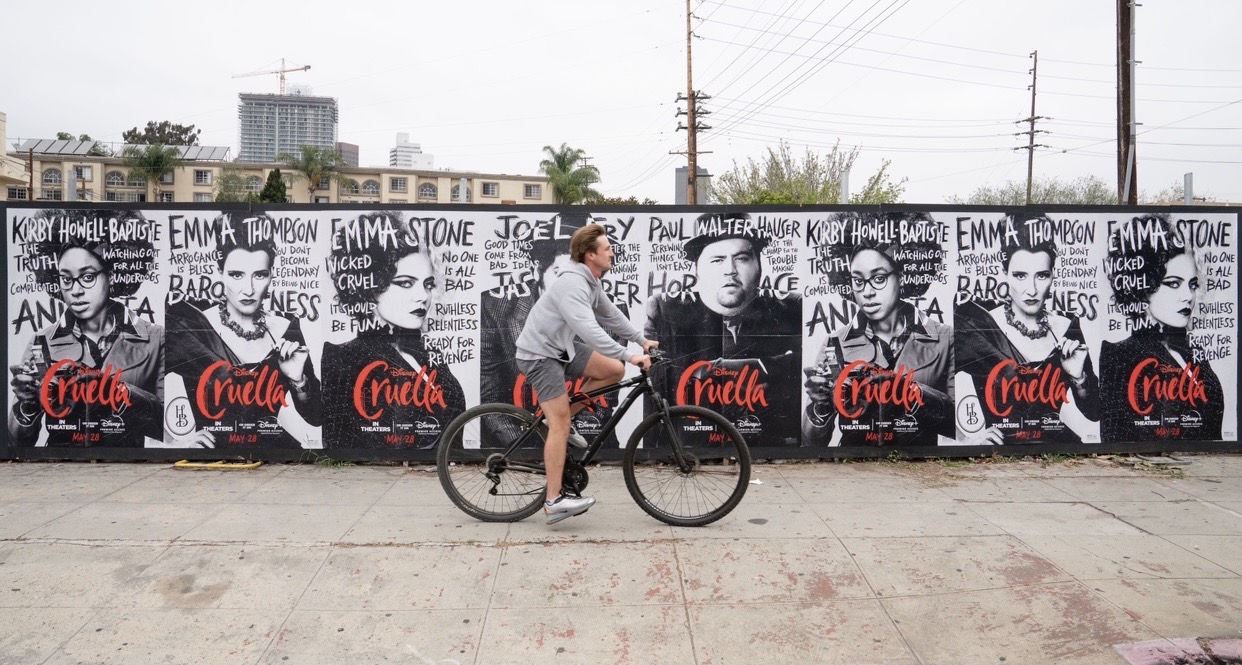 Cruella, the live-action origin story of Cruella De Vil starring Emma Stone, got audiences out of their homes and into theater seats. According to The Hollywood Reporter, "…Memorial Day offering Cruella is doing solid business at the domestic box office for a title that's also available in the home… Cruella, playing in 3,982 theaters, is projecting a four-day opening of $26.5 million, including $21.3 million for the three days."
Originally appearing in the beloved 1961 animated film 101 Dalmatians, De Vil ranks as one of the top villains in American cinema (at least according to the American Film Institute). To help market Cruella, Disney was on a mission to turn heads leading up to the film's Memorial Day release. The company showcased 1970's punk-inspired character posters across Alchemy Media's barricades and signs in Los Angeles and New York City. 
How does Alchemy get brands in key markets and in front of the right people? We call it the street-level advantage. 
One of the benefits of being around since 1969 is that we know how consumers see ads. And that engagement is quick and instinctive. Alchemy acquires real estate with one purpose in mind: to optimize sightlines, as well as the metrics that come with them.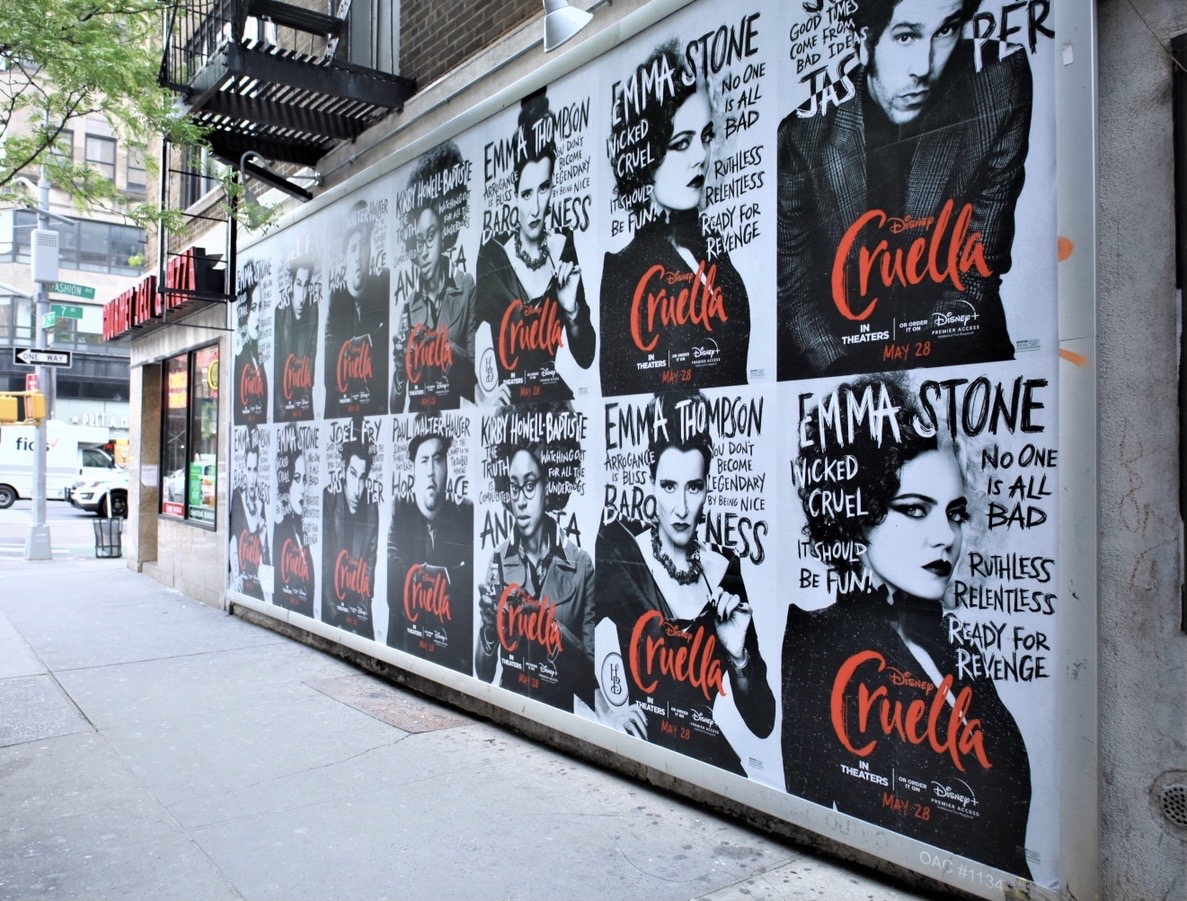 This is where street-level advertising stands out. It puts your ads directly in people's sightlines, and in a way that consumers can interact and connect with your message. This is how we better design and deliver on your campaign strategy.
The COVID-19 pandemic presented a slew of challenges to a number of business sectors. Theater chains were among those hardest hit. The industry was not without casualties, as the Cinerama Dome and Pacific Theaters announced that operations would cease permanently. Over one year later, with vaccination rates on the rise and cineplexes reopening, it seems that all is not lost for theater owners and cinefiles alike. "I would say we're in a 'transitionary' year," Mark Zoradi, CEO of Cinemark, told The Atlantic. "In 2022, we'll figure out what the new 'normal' is."
In the meantime, Disney has more plans for Cruella. On June 4, The Hollywood Reporter confirmed that a sequel is in early development, with director Craig Gillespie and screenwriter Tony McNamaraIt expected to return. "We are very pleased with Cruella's box office success, in conjunction with its strong Disney+ Premier Access performance to date," a Disney spokesperson said in a statement. "The film has been incredibly well received by audiences around the world, with a 97% Audience Score on Rotten Tomatoes in addition to A's in every demographic from CinemaScore on opening weekend, ranking it among the most popular of our live-action reimaginings. We look forward to a long run as audiences continue to enjoy this fantastic film."
Ruthless, relentless, and ready for revenge—it appears that we haven't seen the last of Miss De Vil. 
—
Dedicated street-level billboards are used to make an impact at a defined location within a city, and oftentimes advertisers will purchase a package of multiple dedicated signs within a city. To learn more, visit www.alchemymedia.net or get in touch with a member of the Alchemy team at [email protected].