Street-Level Panels Support L.A. Studio Opening
Are you in the older Gen-Z group, or even part of the Millennial bunch? If so, you likely first experienced the sting of a piercing gun at a shopping mall. Perhaps it was a spontaneous trip to a tourist trap tattoo parlor. Focused on the social and cultural environment of today's times, Studs, a newly formed, ground-breaking female-founded company, is on a quest to revolutionize the ear piercing experience (leaving middle school mall piercings in the dust).
To get the word out, Studs harnessed the power of OOH by using targeted street-level placements to support in-store events at its new West Coast studio.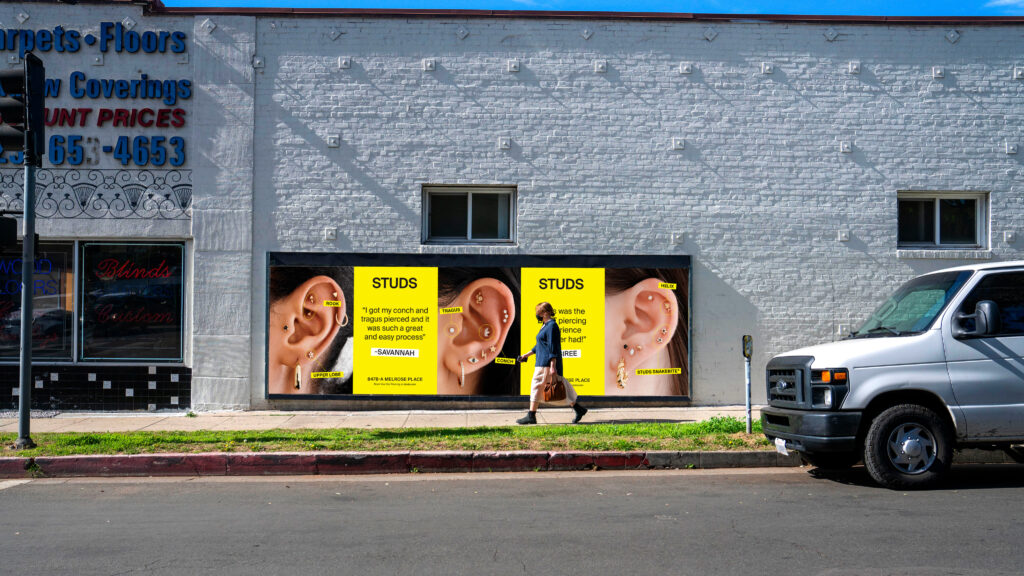 Melrose and North Hayworth Ave
With studios in New York City, Boston, and Miami, the company headed west for its new location. Melrose Ave in Los Angeles is the place to be if creativity and self-expression are part of one's marketing message. Alchemy knows that, and with our barrage of street-level panels placed along this prominent thoroughfare, Studs' promise of customized service in an inclusive, safe space would own the streets.
"We felt like what existed for piercing was either something that was very outdated and gendered," co-founder Lisa Bubbers told Nylon. "We wanted to create something that would appeal to everyone, no matter your identity, gender, or age, and something that's extremely experiential and fun, but then also really clean and healthy. It is a medical procedure, after all."
Alchemy places adverts in twenty-nine key market locations around the country to maximize visibility, and street-level advertising panels are where brand vision and cost-efficiency merge. In the case of Studs, our panel located at Melrose and North Hayworth Ave is a prime placement that captures L.A.'s highly coveted car, foot, and bike traffic. The site is also less than a mile from Studs' new Melrose Place studio. 
"Earscaping," a curated series of piercings, has put Studs on the lifestyle map. As soon as celebrities embraced the trend, social media influencers grabbed their cameras and vlogged their Studs experience. Even the curiosity of Millennials was peaked thanks to a little 90's nostalgia that is sure to awaken your inner thirteen-year-old.  
Studs' studios are currently in five states, with more on the way. One thing is sure – these small piercings have big dreams. 
"You have so many small college towns across the U.S. that have a really captive, large audience of a portion of our core demographic," co-founder Anna Harman told The Glossy Podcast. "And so we can have a really large store footprint through time. The opportunity for Studs is unbounded."
–
Dedicated street-level panels are used to make an impact at a defined location within a city, and oftentimes advertisers will purchase a package of multiple dedicated signs within a city. To learn more, visit www.alchemymedia.net or get in touch with a member of the Alchemy team at [email protected].