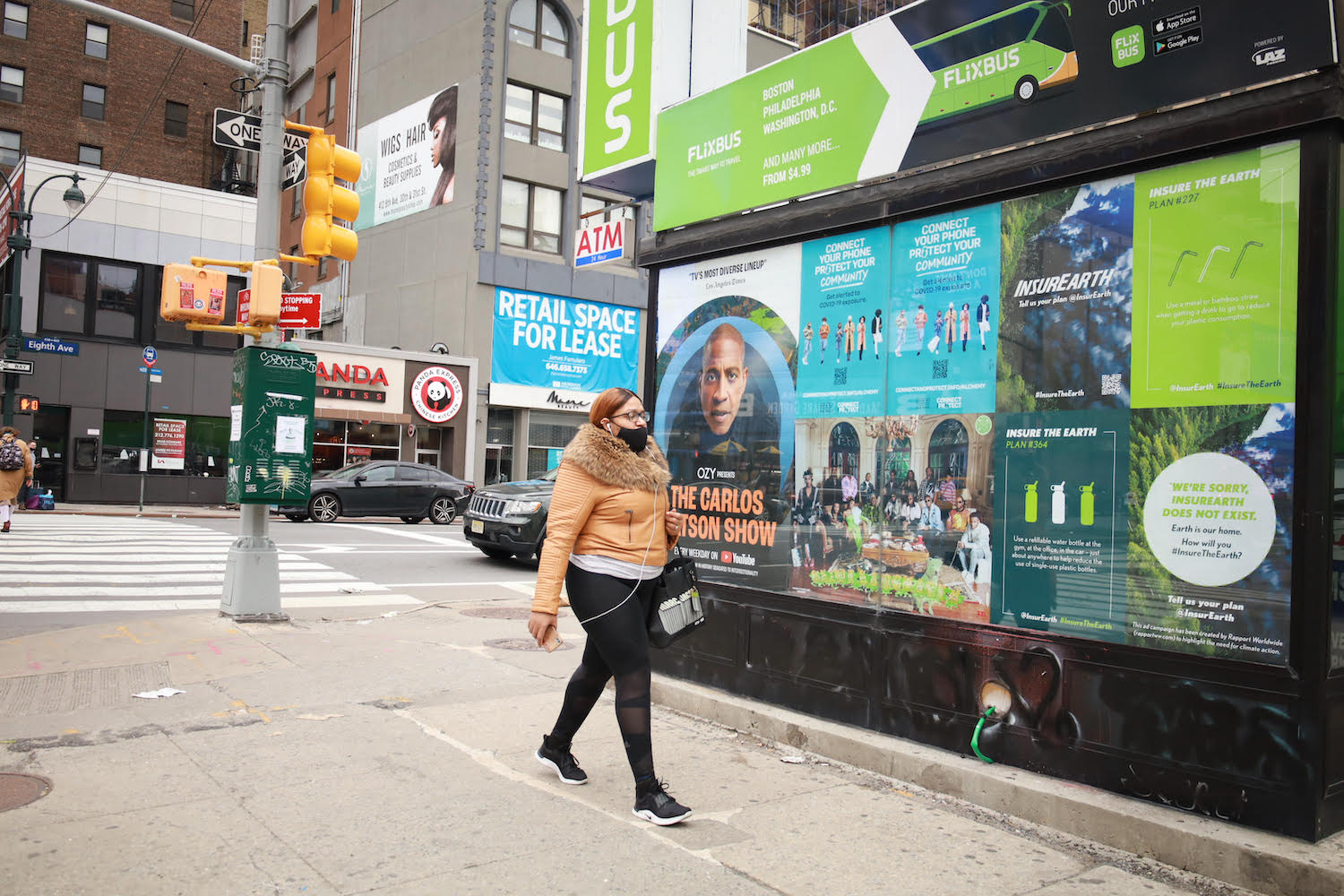 In Honour of Earth Day, the Campaign Runs For Up to Four Weeks Across 15 Markets
NEW YORK & LONDON – 20 April 2021  – Rapport, the global out-of-home media buying and planning agency arm of IPG Mediabrands, has launched a campaign for Insure Earth – a fictitious Earth insurance brand – to highlight the need for climate action in the run up to Earth Day on April 22nd.
Launching April 19th, the Out-Of-Home (OOH) campaign will run for up to four weeks across the US (15 markets including New York, Los Angeles and Chicago) and the UK. The campaign hopes to harness climate change advocates to drive conversation and raise climate action awareness around Earth Day on April 22nd.
Respondents are directed to the Insure Earth website – but are greeted with an Error 404 message informing them that Insure Earth is not real, and posing the question: "How will you #InsureTheEarth?" People are asked to share their plans using the hashtag #InsureTheEarth. As well as getting tips on how they can help to prevent climate change from the Insure Earth Instagram and Twitter accounts.
Paul Sambrook, Global Marketing Director at Rapport London, said, "We are extremely proud of this campaign, and excited to see people engage with and react to its strong messaging. We at Rapport are committed to recognising and addressing our environmental responsibility."
"'Beyond,' Rapport's sustainability pledge to do more, sits at the heart of our agency and our work. Rapport has been working closely with the Advertising Association's Ad Net Zero initiative, sitting on its steering group, to help UK advertising respond to the climate crisis caused by CO2 emissions. Rapport is also a founder of the impending IPA Climate Charter. Insure Earth is a continuation of our efforts to encourage positive changes in the advertising industry, and beyond."
Rapport recently launched "Rapport Beyond" — billboards and related media products that help offset carbon emissions and in that way help purify the air. In the UK, Rapport is leading the industry by offsetting carbon emissions of DOOH campaigns on behalf of clients. The objective of the initiative is to offset the GHG emissions arising through DOOH advertising and provide a net positive contribution across activity for which renewable energy is already being utilised, through a range of projects that address issues close to the hearts of Rapport and their clients.
"Sustainability runs through everything we do at Rapport, and Insure Earth is furthering our path to bringing advertising solutions to the industry that are better for the environment," said Chris Olsen, President US, Rapport. "This campaign is a nice follow up to the launch of our Rapport Beyond initiative and we're thrilled to say that Rapport is at the forefront of enacting more sustainable ad products for clients."
The Insure Earth ad campaign is part of Rapport Beyond and its long-term drive towards sustainability. As a supporter of the Advertising Association's Ad Net Zero target – to reduce the working practices of UK advertising to real net zero by 2030 – other Rapport Beyond initiatives include Air Purifying, Recycled Print and Carbon Offsetting. Further information can be found here: https://rapportww.com/beyond/.
Pro-bono partners that worked on the campaign include Adams Outdoor, Alchemy, BIG Outdoor, Branded Cities, Clear Channel, Firefly, JCDecaux UK, Lamar Advertising Company, New Tradition, OUTFRONT, Pearl Media, Place Exchange, SILVERCAST Media, Splicky, Ubimo (A Quotient Brand), UniLED Solutions, Vector Media and Vistar Media.
###
ABOUT RAPPORT
Rapport is the out-of-home (OOH) media buying and planning agency of IPG Mediabrands. Best known for the strength of its relationships, and rewarding connections, Rapport is a collaborative and forward-thinking agency that delivers valuable results for both clients and partners. As OOH becomes more engaging, interactive and content-driven, Rapport can seamlessly navigate through the ever-evolving media landscape. 
Media Contact
Amy Gorton
PR & Communications Manager