Beverage Company Targets Big City Locals For Latest Ad Campaign
Summer is the best time to market products that appeal to busy and health-conscious consumers. To reach this target audience, Vitaminwater turned to Alchemy Media to give its most recent campaign a bi-coastal boost.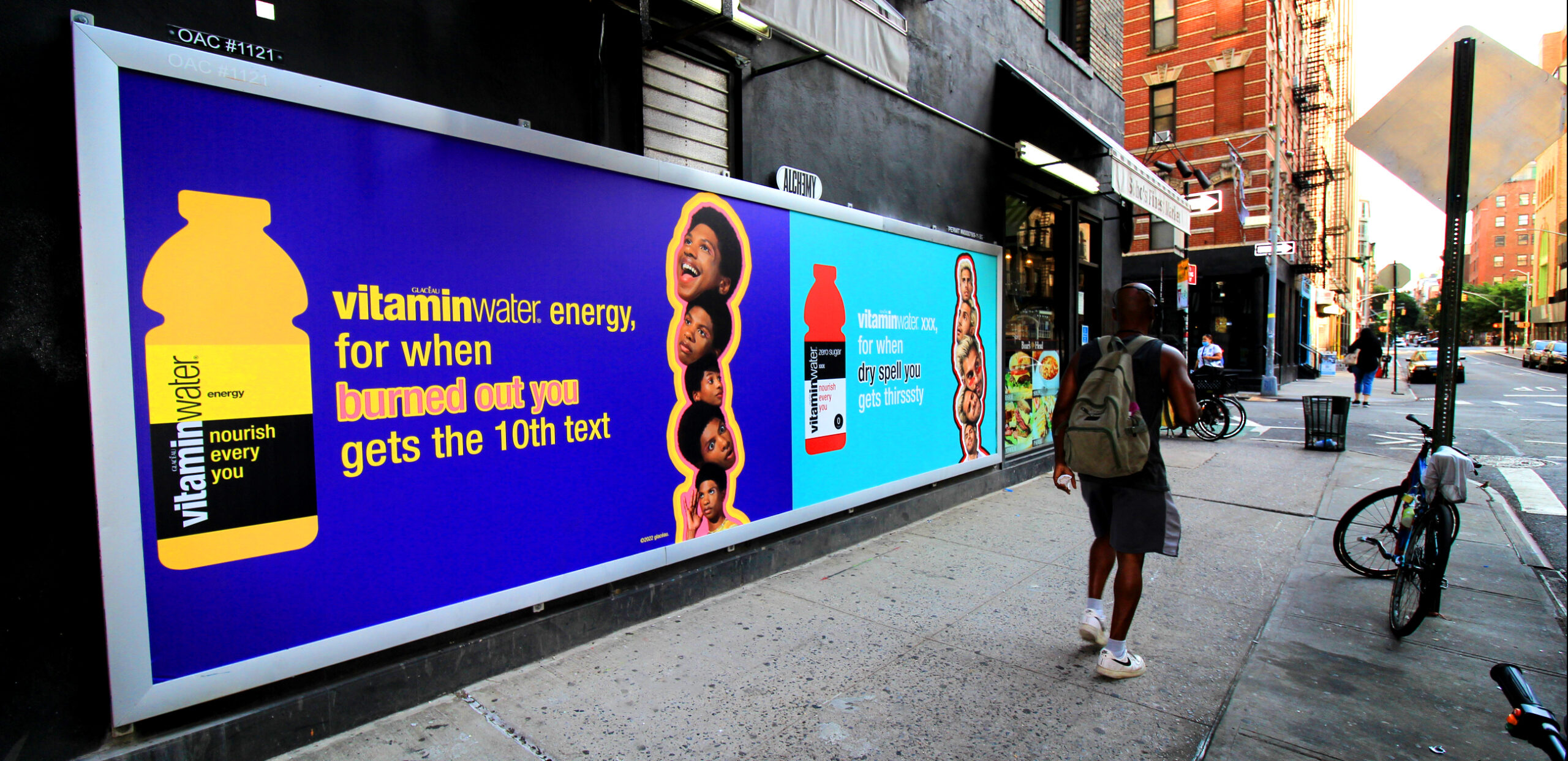 Thompson St & Grand St | SoHo, New York City
Alchemy's street-level billboards are cost-effective and great for your brand vision. Combined with our nationwide inventory, we can offer brands like Vitaminwater the highest level of visibility in both New York City and Los Angeles.
Wild in the Streets (From Coast to Coast)
The placement of brand messaging is critical to the success of any OOH advertising strategy. When reaching a client's target audience, Alchemy executes campaigns in highly sought-after markets that attract the public's attention and engage them on the ground level. For Vitaminwater, we positioned the company on dedicated billboards at busy intersections in two highly populated cities.   
This colorful advertising campaign started in the commercial and entertainment district of SoHo. In this well-known Manhattan neighborhood, Vitaminwater took center stage amid hotels, eateries, metro stations, and a plethora of retail stores. Alchemy's New York portfolio covers numerous highly sought-after neighborhoods, and our Thompson St. & Grand St. location is one of our best. 
After making a splash in Soho, Vitaminwater switched gears and headed to Los Angeles, to the vehicle traffic goldmine of Sunset Boulevard and White Knoll Drive. This installation, located between Dodger Stadium and Downtown LA, positioned Vitaminwater right in the middle of the action—especially during rush hour. 
When it comes to ensuring the right consumers see your ads, we at Alchemy know it's all about strategic placement and the science of sightlines. Whether you want to be in the City of Angels or The Big Apple, Alchemy's proven formula yields unmissable activations that drive campaign messaging and increase sales.


Sunset Blvd & White Knoll Dr | Angelino Heights, Los Angeles
Vitaminwater's rainbow of nourishing beverages aims to provide benefits for "every you." As stated in an official press release, the brand's "Nourish Every You" campaign "is inspired by the insight that Vitaminwater fans want to take care of themselves but are living with fluctuating physical, emotional, and spiritual needs." 
Just as Vitaminwater aims to help its consumers meet life's many demands through its products, Alchemy strives to deliver solutions that make OOH advertising a smooth and effective venture. Together, the brand's striking creatives and our custom marketing strategy didn't just help push Vitaminwater's line of beverages—it also helped remind on-the-go communities to "Nourish Every You." 
—
Dedicated street-level billboards are used to make an impact at a defined location within a city, and often advertisers will purchase a package of multiple dedicated signs within a city. To learn more, visit www.alchemymedia.net or get in touch with a member of the Alchemy team at websales@alchemymedia.net.