Wear 'Em Out Pop-Up Opens Memorial Day Weekend
In preparation for its Memorial Day weekend debut, leading e-commerce platform eBay used Alchemy Media's Street Level Advantage to promote its new sneaker pop-up concept: the Wear 'Em Out Store. Alchemy's strategy was to provide targeted placements with a lightning-fast turnaround to ensure maximum exposure for eBay's striking creatives.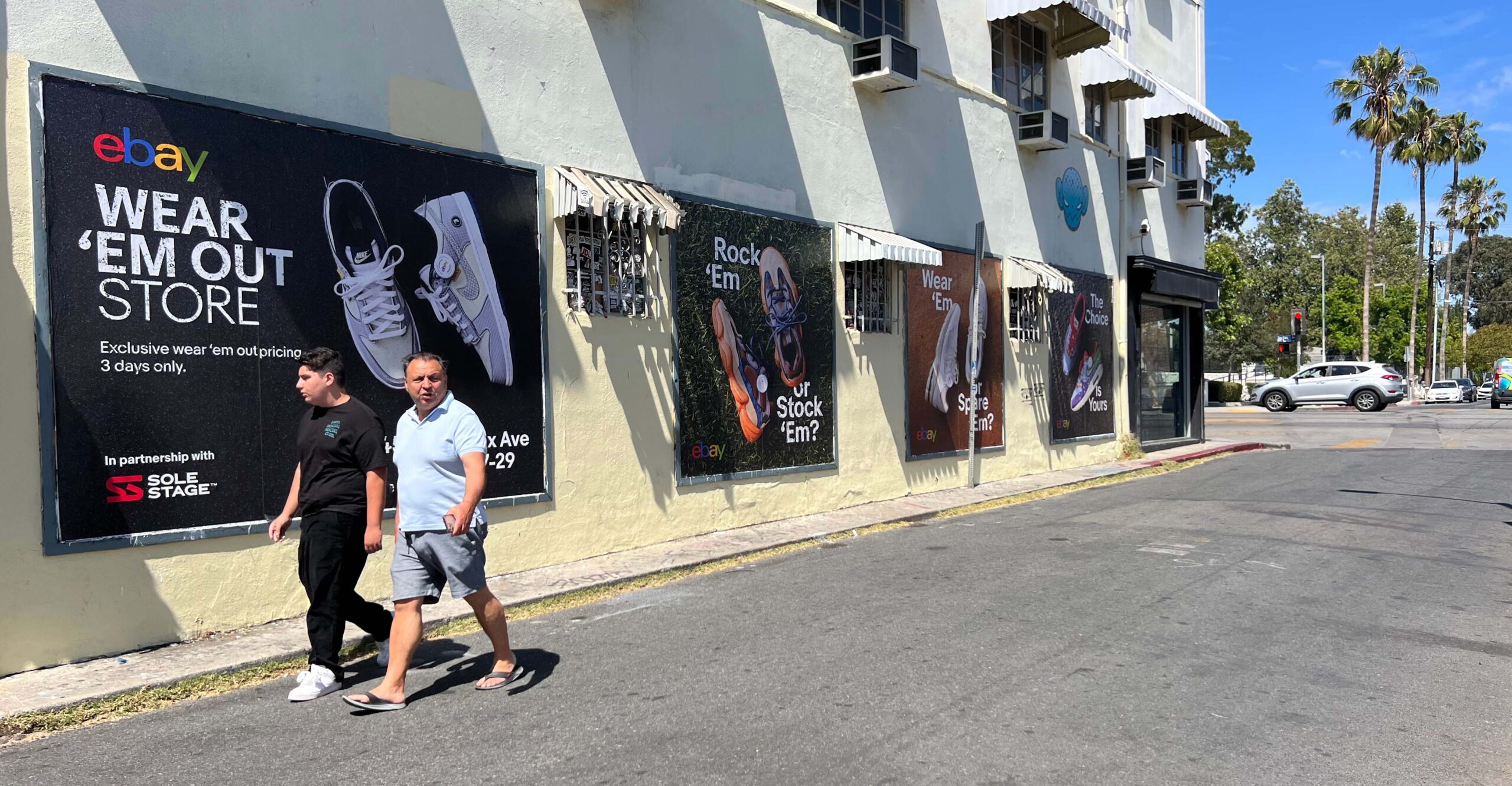 Fairfax Ave & Rosewood Ave | Los Angeles
With a recent survey revealing that over half of sneakerheads prefer to keep their kicks in pristine condition, eBay's brick-and-mortar pop-up encourages this thriving subculture to wear their new purchases directly out the door. "Most people can identify with that feeling of getting a new pair of shoes that you love so much, you just have to wear them out of the store," said eBay's General Manager, Garry Thaniel, in the company's official statement. "The Wear' Em Out store celebrates a love of sneakers while acknowledging that sneakerheads are often balancing what they wear with what they keep in the box." It aims to breathe new life into shoes that are often kept in the closet.
Reach Target Audiences With Street-Level Panels
When it comes to making sure your ads are seen by the right consumers, Alchemy knows that it's all about strategic placement and sightlines. As the country's leading street-level media and wild posting company, we've acquired some of the most sought-after real estate in today's top markets. We position campaigns in locations where target audiences will see them and in ways that allow consumers to directly connect with their messaging. Securing a spot for eBay on one of our most sought-after boards in Los Angeles' Fairfax District serves as a perfect example of our work.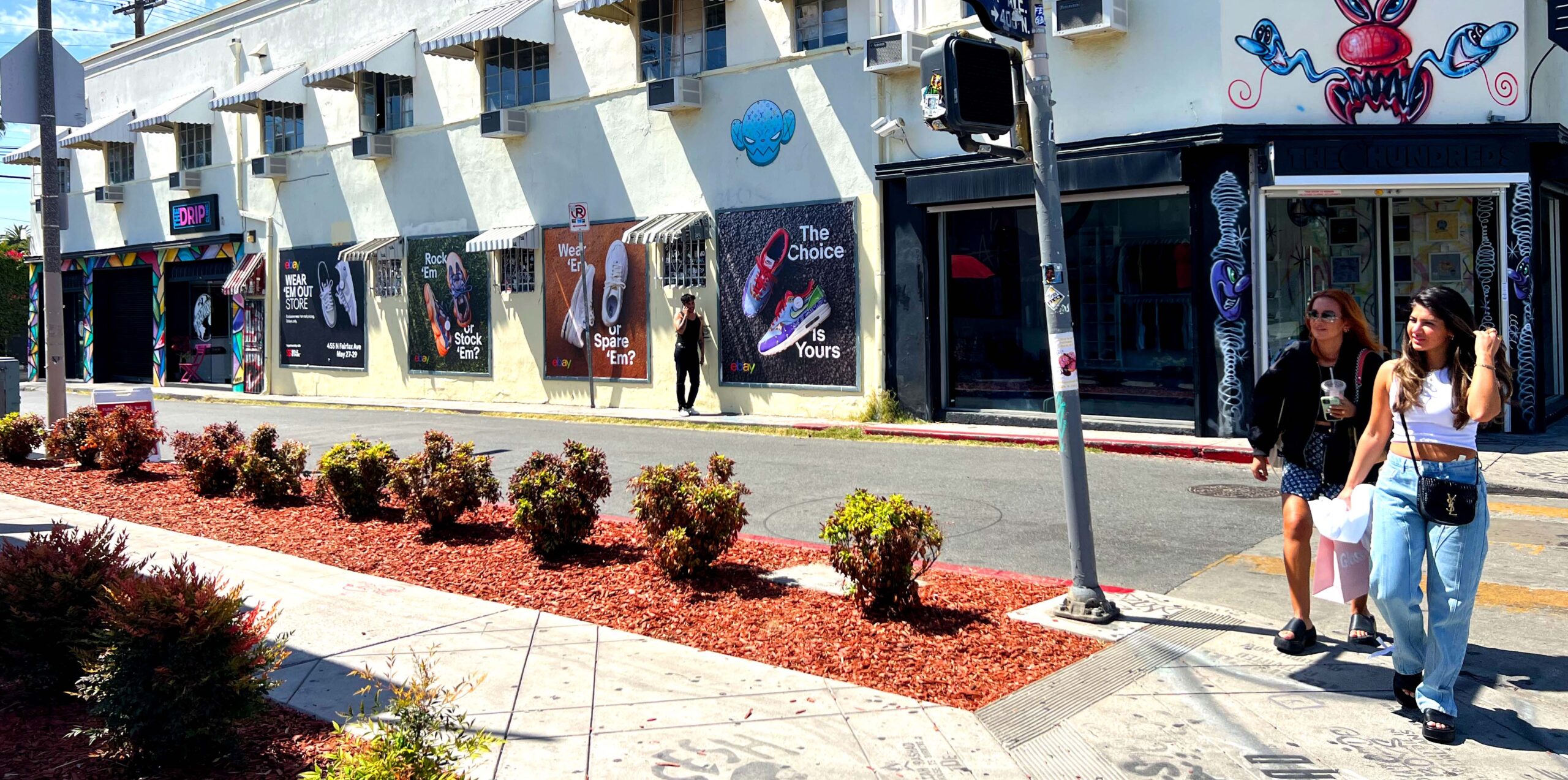 Fairfax District | Los Angeles
Fairfax Avenue is one of L.A.'s coolest streets. Dubbed "The Rodeo Drive of Streetwear" by The Huffington Post, this main thoroughfare cuts straight through the Fairfax district. In the last decade, this diverse neighborhood has evolved into a hipster mecca, boasting a slew of restaurants, indie shops, and, of course, high-end sneaker stores. So, when eBay needed to spread the word about its rapidly approaching brick-and-mortar debut, Alchemy's panels at the intersection of Fairfax and Rosewood were the perfect fit. We put eBay's announcement right in the middle of the action, all while staying within just a few feet of the company's Wear 'Em Out location. 
Alchemy's expertise in building out custom street-level marketing campaigns with a quick turnaround made us the best choice for eBay's pop-up store event.  We didn't just help eBay set up shop; we also helped inspire a community to unbox its creative self-expression.
"eBay is my go-to place to find the kicks you can't find anywhere else," said rapper Offset. "For sneaker collectors like me who lay awake at night trying to decide if you're going to wear your new kicks, eBay's Wear 'Em Out Store makes light of something that haunts the entire sneaker community and gives people a new way to access the shoes they want for summer."
In partnership with Sole Stage, eBay's Wear 'Em Out Store opens Memorial Day Weekend, May 27-29th. 
–
Dedicated street-level billboards are used to make an impact at a defined location within a city, and oftentimes advertisers will purchase a package of multiple dedicated signs within a city. To learn more, visit www.alchemymedia.net or get in touch with a member of the Alchemy team at websales@alchemymedia.net